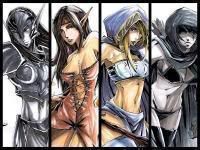 My Hubby is a certifies gamer. He has been into gaming since Star craft and counter strike days. i actually met him in one of an Online game that we used to play "RAGNAROK". Just like me he enjoyed playing online games,This is his form of relaxation and i had no problems about that cause he has no other vises aside from playing games. Though I'm glad that he quit playing RF which i myself didn't know how to play because i found it so complicated. i admit that he can't really let go of this game called DOTA! i think every guys know about this game. Dota or Defense of the Ancient is a custom scenario for Warcraft III, based on the "Aeon of stife" map for Warcraft III: the Frozen Throne. It is modelled off of the modified map for Starcraft: Broodwar of the name Aeon of Strife (AoS), where two armies led by powerful units clash against each other
.
In Defense of the Ancients, two armies (the Sentinel and the Scourge, AI-controlled) fight against each other, led by hero (player-controlled) units. At the beginning of the game, you have the option to choose one hero for the duration of the game. Click on a tavern and hover your mouse over the hero's picture in order to see its abilities. What heroes are available to you depends on the game mode the host selects.
Because i so love my hubby, i tried to enter his world as he tries to enter mine. I tried playing DOTA together with my friend years ago. but i really don't understand the game. You need to know your Hero first and combine your equips. It's really hard for a girl like me since no one teached me. Right now, I'm still a noob (poor me). My hubby was one of the pioneer dota gamer here in our city and ruled it! Right now, he seldomly play Dota since we had a deal that we''ll play any games often because we both knew that once we get attached in one game and got addicted to it no one can stop us from playing..